Blog Resources That Makes Blogging Fun And Easy
Blogging can be difficult especially if you are just starting out but blog resources make it easy and fun. I have kept a list of the things that I use to make my blogging journey easy on WordPress. This list may contain affiliate links and I will be compensated if you use the same programs or websites that I am using.
Here Are My Blog Resources
I am so happy that I found Canva before I got serious about blogging. Canva is a gem when it comes to making your design. It is user-friendly that even if you don't have an in-depth knowledge of web design, you can still make appealing images. It has templates for social media with corresponding sizes like Facebook, Twitter, Pinterest, and much more. You can also upload your own photos and just edit it to look professional. Making images for Pinterest is my favorite when working in Canva.
Mailerlite is essential in sending newsletters to your subscribers. Giving your readers the option to subscribe to your blog has never been easy. The best thing that I like about Mailerlite is that you can get it for free for the first 1000 subscribers so it is perfect for beginners who do not want to spend money but wanted to keep a list their subscribers.
Yoast SEO is a great plugin for making sure that your blog is noticed by search engines. If you are not well-versed in SEO, you just have to literally follow recommendations from this plugin. I always try to aim for color green – an indicator at the top of your WordPress admin page that your blog is good when it comes to SEO. It also has a readability analysis to let you know how friendly your content is to readers.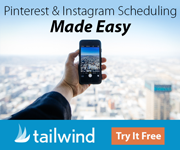 Pinterest is my second source of traffic. Thanks to Tailwind, I get to pin and repin contents without looking spammy. Tailwind is a schedule that works both for Pinterest, Twitter, and Facebook. When you schedule a pin, you will have an option to click Facebook and Twitter if you want it to be posted at the same time. You even have an option to pin from Instagram which is a great feature because you don't have to download your pictures and re-upload. It would be best to create a board list so that when you schedule, you only have to click one list instead of clicking each board manually.
Tailwind offers a free trial for a month from referrals for you to see the difference.You may cancel after that if it is not working for you, which is unlikely because it saves a lot of your time.
As you can see on my blog, I have those cute floating social media logos that when you click, it will open another page for you to share on a specific platform. This is just lovely. It is so easy to set up that it is literally drag and drop. All you need to do is download the plugin, add your social media URL, and then set it up the way you want. You can put the logos on top of your blog, at the bottom, or both on top and bottom.
Contact form 7 is a great form for your readers to get in touch with you. Instead of them sending an email, they can directly send a message through your site. I highly recommend this to bloggers who are offering services like consulting. It will save time and effort for your readers to directly contact you from your site.
Smush compresses your images and optimizes them to boost your site speed. Speed is one of the main things that Google considers when it comes to ranking and Smush helps you to achieve a faster blog that will help you get noticed in search rankings. Speed is also one factor whether a user will stay on your site or will just move on to another site if yours is too slow. You can easily install the plugin and click smush each image from your gallery to compress them.
Siteground is a hosting company. I recently transferred and I couldn't be happier. They made the transfer smooth. The last thing that you want to worry about is the speed of your site. After trying all the compressions that I can think of and my site was still slow, I checked reviews of hosting companies and chose SiteGround. The chat support was very helpful and they are open 24/7. This is not an add-on per se but if all other tools fail in making your blogging life easy, you might want to check your hosting provider if they are the problem.
As my blog grows, I continue to explore tools that make blogging easy and fun. I might add more things here as I move forward in my blogging journey and remove things that do not fit my blog. I personally prefer free up to a few dollars worth of tools if possible but I will not also compromise the quality of my blog.